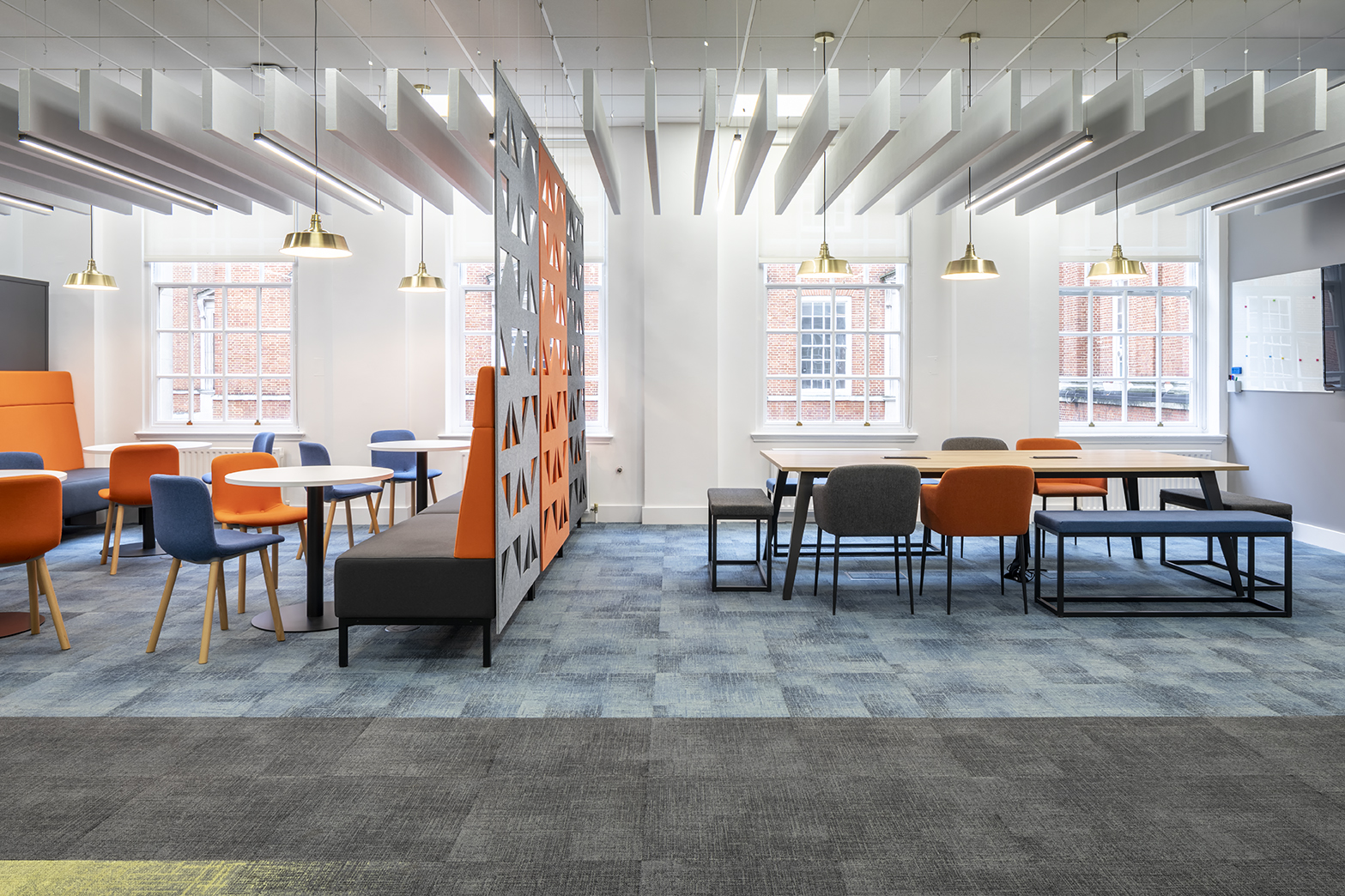 Reducing noise in an open plan office
We can all appreciate just how loud an open plan office can get.

In fact, the general acoustic level inside the typical office is said to be between 45dB and 60dB. But the good news is that there's a lot that can be done to create the ideal acoustic environment. Here we discuss a range of options for reducing the impact of noise in your open plan office.
Why is good acoustic management important?
Bond University Business School recently conducted a study to understand the impact this has on people. Using sensors to track heart rate, alongside facial recognition software, the findings highlight the relationship between the office noise, stress, and mood:
Stress: where sweat responses increased by 34%
Mood: including a 24% increase in negative emotion
No wonder then that noise is typically among the main complaints accompanying the move from cellular to more open plan arrangements. It's also interesting to view the issue from the people actually working in open plan offices.
Employee productivity benefits
To again throw a few brief statistics at you, Oxford Economics ran a survey before the current fixation on hybrid working and discovered:
Only 1% of employees (down from 20% in 2015) said they could block distractions and concentrate without taking action
75% of employees said they had to go outside to focus; with 32% using headphones to block distractions
63% of employees said they lacked quiet space for focused work
"The ideal acoustic environment - it's one of our top-of-mind concerns when creating and implementing a collaborative, hybrid workplace."
These are eye-opening results. Particularly when they connect to employee productivity, with the survey suggesting only 40% of leaders see the link between noise, distraction, and productivity. Most startling of all: only 6% had actually equipped their office with noise-mitigating features.
Creating the ideal acoustic environment
The good news however is that there's a lot that can be done to create the ideal acoustic environment. At Form Workplace Solutions, it's one of our top-of-mind concerns when creating and implementing a dynamic, collaborative, and hybrid workplace.
A commitment that is shown first in our planning. Where we look to incorporate a mix of collaboration hubs (theatre seating, breakout areas, sofa seating etc.) and quieter zones (separate booths, more partitioned work desks etc.).
This is a vital first step in determining both the purpose of a space and associated noise levels. Layout and furniture help inspire highly interactive meetings and ideas sharing. While more tranquil zones focus around the needs of the individual.
Designing your office layout for better acoustics
The second step is design. Which essentially means avoiding wherever possible the worst perpetrators of high acoustic 'disruption', such as no partitioning, hard and noise-reverberant surfaces.
This is where we talk about a layered approach, factoring in a range of design concepts and options focused around three main considerations:
#1 Collaboration
Here, the emphasis is on inspiring highly interactive breakout sessions designed to minimise echo and ensure clarity of understanding – while optimising sound reverberation.
Options here include:
Wall-to-wall acoustic ceilings – suspended to maximise their sound absorption
Book shelving – surrounding the meetings hubs to further diffuse sound
Acoustic wall panels and modular tiles – a stylish option for soaking up noise
#2 Privacy
Another important aspect for productivity, and conducting meetings or sensitive conversations. Where acoustic treatments and sound masking help create a more intimate working experience.
Options here include:
Work cubes – separated by acoustic-friendly panels
Vertical sound absorbers – to efficiently minimise airborne noise
Acoustic flooring solutions – to further absorb sound, primarily footsteps
#3 Productivity
Where we consider the office as a whole, and suggest options for limiting unwelcome background noise to boost both employee mood and morale.
Options here include:
Suspended ceiling panels – directly over multi-user tables or seating
Informal discussion areas – ideally built around a dedicated lounge area
Soundproofed rooms – where silence supports undisrupted focus work
In summary
Nobody wants a silent office, and whisper-quiet environments are rarely needed outside library conditions. But sound is important to employee wellbeing, particularly in open plan offices. Get it right, through the proper use of acoustic products and noise can be reduced. Thereby ensuring an enjoyable workspace for all. At Form Workplace Solutions, we're experts in delivering acoustic treatments, and can quickly serve up a range of options and guidance.
---
Further information
Additional information Enticing employees back to the workspace
---
Form Workplace Solutions has a highly experienced design team with a long track record of bringing innovative concepts to office environments, including advice for reducing noise in open plan offices. As a registered supplier with the Low Carbon Workspaces initiative, we can deliver in the most cost effective way possible.
We're bursting with ideas on how to bring future learning space designs to life. If you're looking for expert know-how and practical support, contact Alex Ryan on 01494 464686 or email us at info@formws.co.uk.