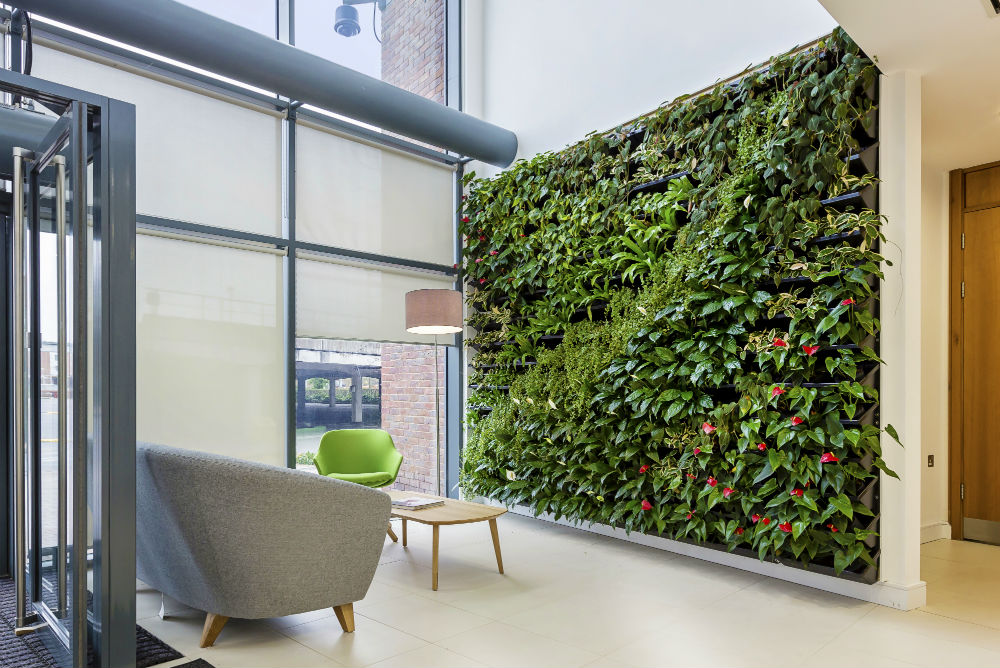 The fundamentals of biophilic design
Improving workplace safety, productivity, and wellbeing
Introducing more natural elements into any workspace environment can have a significant impact on employees. Particularly at a time when companies are asking basic questions about the future role their offices should perform. Questions relating to the way a space supports collaboration and creativity – while also ensuring employees feel safe if and when they make the return.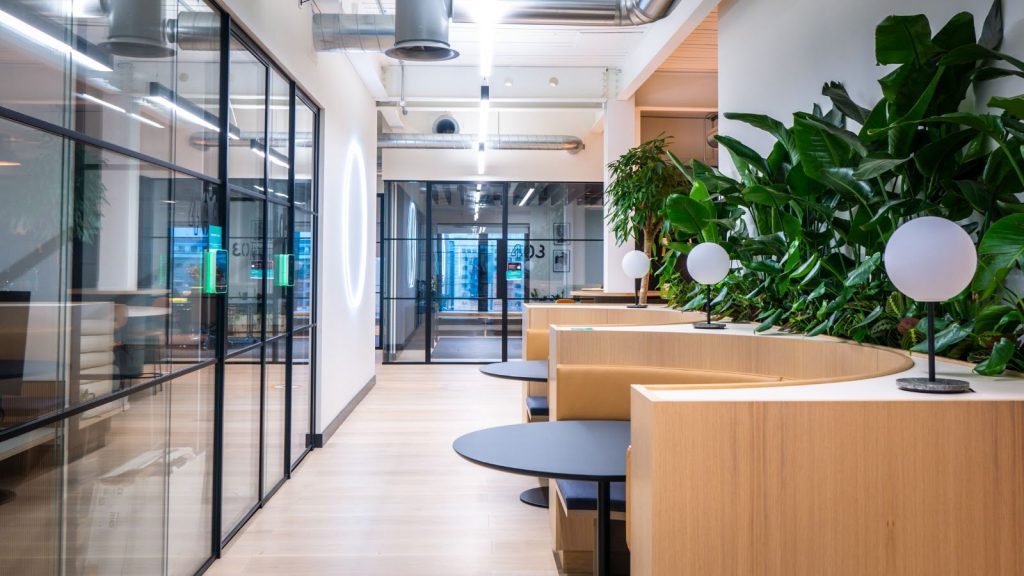 Connecting to the environment
The catch all phrase for creating office spaces that 'bring the outdoors inside' through a thoughtful blend of nature, space, and place, is biophilic design. A concept that's growing in influence as employees seek more people-focused design, able to connect them to the wider, natural environment as lockdowns begin to ease.
It's also a design philosophy that delivers immediate benefits. The RHS for example, suggests the greatest benefits of biophilic design, include wellbeing and productivity improvement. In addition, the use of plants can also:
Reduce anxiety, tension, and fatigue by up to 37%
Decrease symptoms of ill health by 25%
Clean the air by absorbing CO2 and releasing oxygen
And that's just plants: add in 'living walls', and businesses can look to enjoy:
Increased productivity – up as much as 15%
More social interaction – 'small scale greenery' is proven to have a positive impact on organisational cohesion
A calmer workspace – living walls can help halve ambient noise in an office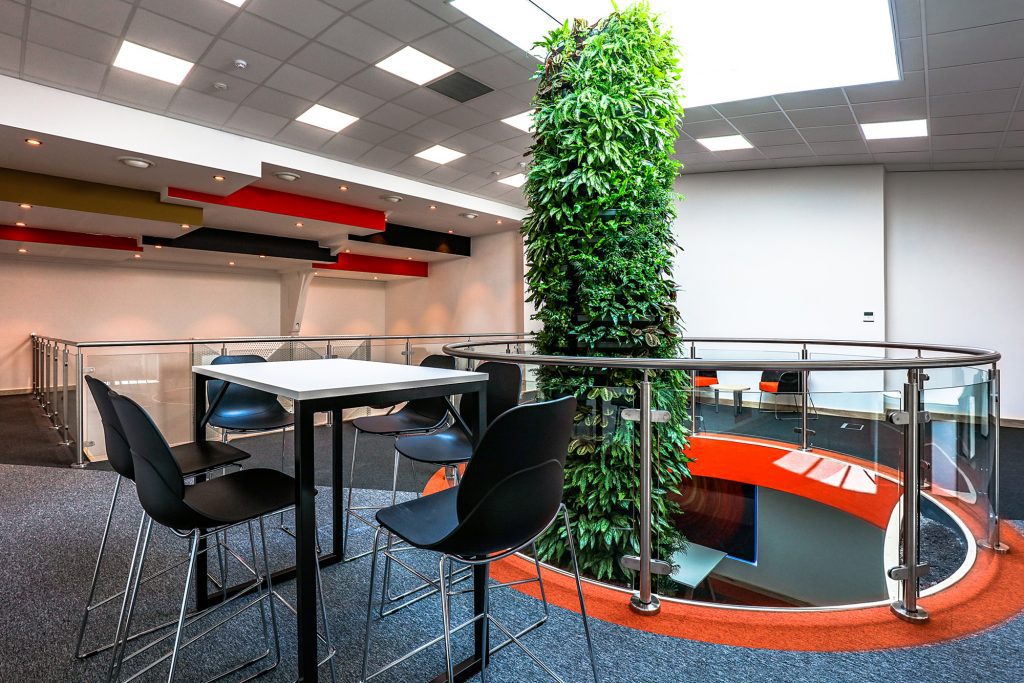 A safety-first workplace
Healthier and more productive are obviously good values to encourage. Another one is safety, as workers emerge from the latest lockdown with obvious concerns. Addressing these will see attention paid to a variety of issues including air quality, lighting, and acoustics – while also cutting down on energy costs.
Hence the value of 'going green' through the use of plants and green walls that help to actively clean the air and reduce indoor pollutants such as smoke, dust, mould, and the chemicals emitted by various building materials. Such design is also centred on the delivery of natural light and good ventilation – which help serve up obvious and long-lasting benefits.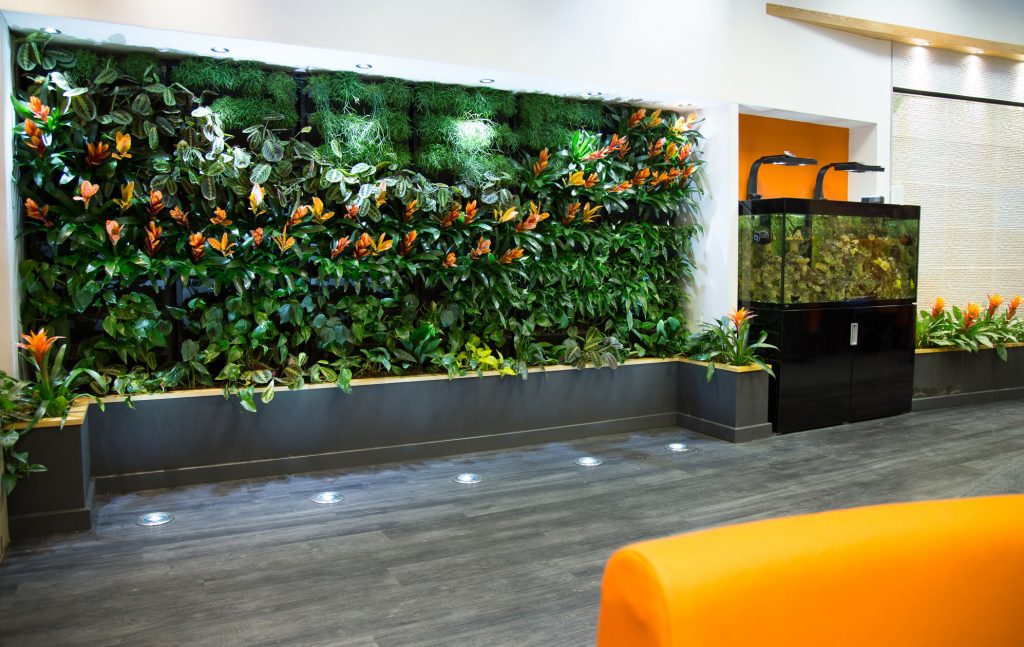 The 5 basic principles of biophilic workspace design
At Form Workplace Solutions, we stay loyal to 5 key considerations when developing any biophilic design process:
Begin with thoughts of light and space: there's a lot we can do to manipulate light to make it warm, cool, shaped or filtered etc., all depending on the space you need to bring to life and its purpose.
Stay loyal to natural forms and shapes: nature is not made up of straight lines and regular angles, and any workspace featuring curves, arches, and irregular proportions is always easier to bond with.
Connect design to sensory experiences: any number of patterns and processes can be found in nature that help stimulate biological functions (thinking, creating etc.) and signify the passing of time – which we can dial up or down on demand.
Bring the outside indoors: think texture, colour, pattern, and unity, with the careful placement of natural features such as plants, water features, and natural light – as well as the use of natural colours and materials.
Design with deeper meaning: every building sits within a wider setting, and crafting a design that's sympathetic to the natural, historic, cultural, or geographic world around helps elevate a personal sense of connectivity.
In summary
Getting back to nature via inspired biophilic design is a sure-fire way to help improve productivity and wellbeing, as businesses look to ensure a safe return to the office. It's also a good way to help reduce carbon emissions by introducing the technologies needed to cut energy usage and improve the working environment.
Form Workplace Solutions can help with both. We have a highly experienced design team with a long track record of bringing biophilic concepts to the office; And as a registered supplier with the Low Carbon Workspaces initiative, we can also ensure new innovations are delivered in the most cost effective way possible.
We're bursting with ideas on how to bring future office designs to life. If you're looking for expert know-how and practical support, then get in touch by contacting Alex Ryan on 01494 464686 or email us at info@formws.co.uk.