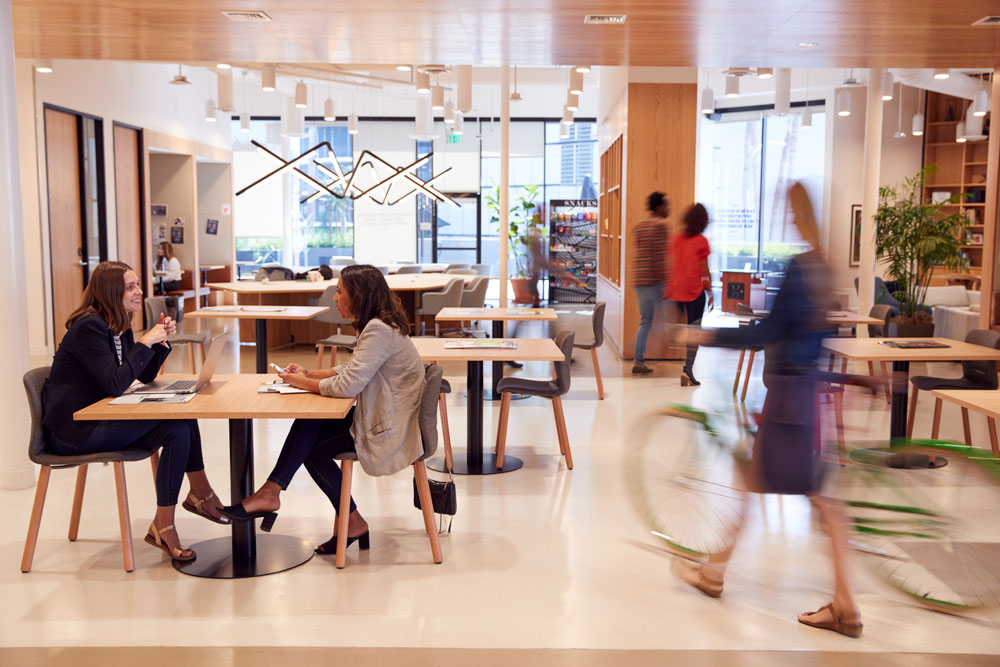 Re-imagining the workspace
From improved safety to inspired productivity
Moving into 2021 office workspaces certainly have a lot of checkboxes they need to tick. Safety will of course be paramount as businesses consider how best to reopen, closely followed by flexibility as employees seek to combine working from home with time spent in the office.
Change once again seems the only constant, with Covid-19 opening people's eyes to a new working reality. A fact reinforced by the latest research into employer and employee expectations:
70% of respondents to a recent LinkedIn poll say they'd prefer to work from home and the office – or just the office
85% want the flexibility to choose daily between working remotely or coming into the office
82% of managers expect to introduce more flexible work from home policies in 2021 and beyond
These are big numbers that highlight how the grand 'work from home' experiment hurriedly forced upon companies earlier this year, has forced a profound rethink about the form and function of the modern workspace.
The move to hybrid workspaces
Amidst all this talk of transformation however, we should all spare a thought for businesses fitting out or refurbishing office space. Already tasked with creating an environment capable of inspiring productivity and a dynamic culture, they now have a host of new questions to consider, including:
How can the new layout respect the safety of individuals while also allowing for collaborative workspaces?
What percentage of the workforce will need to be accommodated in the office on any given day?
How can the space better support virtual collaboration with remote resources?
The answers in most cases point to a hybrid workplace model. An adaptation of office layouts aligned to employees' future needs for physical space, and able to accommodate more flexible scheduling and impromptu collaborative 'meet-ups' – at the expense of a more traditional 'fixed desk space' model.
Putting purpose to work
Big changes are certainly heading our way. That said, in many instances Covid-19 is not the catalyst for change but rather an accelerant. Business practices, empowered by technology, have for some time been forcing a rethink of what an office space should offer – an agenda now radically brought forward.
Yet aside from safety, design methodologies also need to be sympathetic to the underlying purpose a space needs to serve. In the past, this purpose was relatively simple to address: cram as many desks into a space as possible, alongside the computers and telephones needed to get employees 'busy'.
Today however, with Gen Z workers soon to become the majority of any workforce, the emphasis is noticeably shifting:
Space is now viewed as a creative medium, open for all to enter, contribute, and enjoy
Formal boundaries, structures, and hierarchies are slowly losing their hold over the design of any physical shape
Layouts need to offer a delicate mix of quiet spaces and collaboration 'hubs' to help inspire teamwork and a more vibrant culture
Shifting the emphasis to intent
How are the providers of workspace solutions responding? Well at Form, we've always been excited at the idea of 'intentional space'. The key word here is 'intent':
Understanding how a location is going to be used
Defining the flow of activities that pass through it on a daily basis
Imagining how design can facilitate the required 'feel'
For example, employees attending your office in the future may be doing so primarily to meet and brainstorm. If that were the intent, we would consider flexible desk arrangements that are easy to re-arrange to meet changing needs. Other recommendations would include the addition of freestanding lockers at key hubs to support hot-desking, and 'micro-pods' for those jumping on Zoom calls.
In other instances, a business (due to the nature of its work) may need to stimulate a more permanent employee presence. Here we would help create a desk arrangement that incorporates social distancing guidelines into a configuration that still feels natural, while providing the features people need to stay motivated and productive.
In summary
Shifting employee expectations for the office continue to impact thoughts of design and layout. The challenge now is to translate these requirements into a clear intent, and then using this 'specification' as the inspiration behind any change. Safety will always come first, but close behind it comes an opportunity to create the surroundings needed to inspire your business success – both for today and into tomorrow.